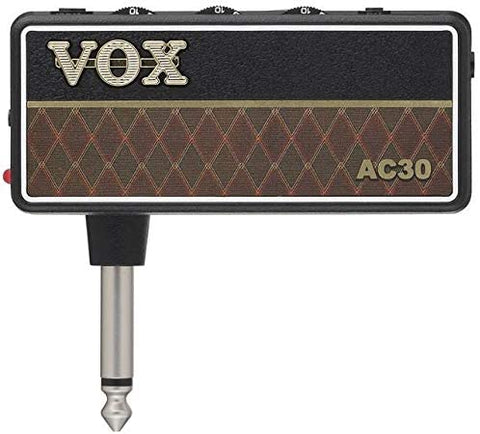 Vox amPlug 2 AC30 Headphone Guitar Amplifier
Offering the easiest way to enjoy true analog amplifier sound in your headphones, the amPlug series has been a bestseller since it first appeared in 2007.
With amPlug 2, the crucial analog circuit has been drastically improved, and each model now provides three modes. Guitar types provide multi-effect functionality, and a rhythm function has been added to the bass type. A foldable plug mechanism that rotates 180 degrees and an auto power-off function are additional features that contribute significantly to improved convenience and ease of use.
The amPlug is the simplest way to get serious sound; occupying virtually no space, it's an ideal choice for any guitarist or bassist.
Plug the amPlug into your guitar and enjoy serious sound. It's that simple!
To use the palm-sized amPlug, just plug it into your guitar and grab your headphones. Playing your guitar or bass with amPlug results in serious amp sound that's overflowing with presence. A wide range of variation is available, as the lineup consists of four models: "AC30" provides the AC30 top-boost sound, "Classic Rock" gives you the classic crunch sound of a UK-made 100W amp, "Metal" delivers the extreme high-gain sound of a US-made amp, and "Bass" is designed specifically for bass.
A completely analog design accurately simulates the circuits of classic tube amplifiers, resulting in a rich, detailed sound.
While retaining the fully analog multi-stage gain circuit, additional refinements have been made toward reproducing the sound and performance of real tube amps. These refinements include factors such as reproducing the way a tube amp responds to different guitars, pickups, and volume as well as recreating the sense of air movement within the speaker cabinet. As a result, the carefully selected circuit structure and components of the new amPlug delivers a more highly evolved sound.
---
We Also Recommend