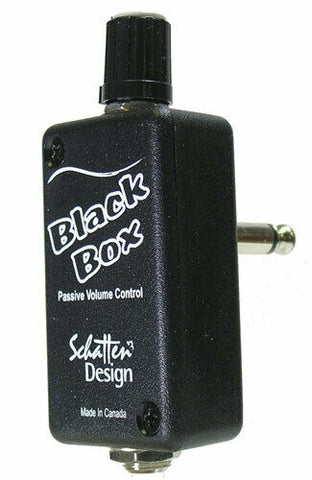 Schatten BB-03 Black Box Guitar Pickup Volume Control (Used)
**Used**
The "Black Box" is a small lightweight passive volume control unit that simply plugs right into the endpin jack or output jack of your guitar. It is designed to work with virtually any acoustic instrument that has a pickup system, but lacks a volume control.

Housed in a rugged ABS box, the Black Box is an almost bullet-proof design. It is extremely rugged.

     The "Black Box" measures only a scant 2 1/4" x 1 1/4" x 3/4" in size.
Weight: only 1 1/2 ounces  (42 grams).
Added Safety For Your Guitar

     Your strap stays in place on the existing end pin jack. There are no modifications.
Simply plug the "Black Box" into the output jack of your guitar and plug your guitar cord into the jack on the bottom of the "Black Box".
The "Black Box" is specifically designed to keep the output jack (and therefore your guitar cord) positioned pointing downward towards the floor. This can help to protect your guitar. Should you step on the guitar cord, the downward pointing plug can disengage from the black box much more readily than it normally could from the end pin jack.
Black Box design notes:

     As stated, the Black Box will work with just about any modern pickup system on the market. That being said, some of the older under saddle pickup designs (specifically those that are made up of six small individual crystals in a strip and not fitted with a preamp) do not have sufficient output to be used with any passive volume control and are not recommended for use with the Black Box.
---
We Also Recommend