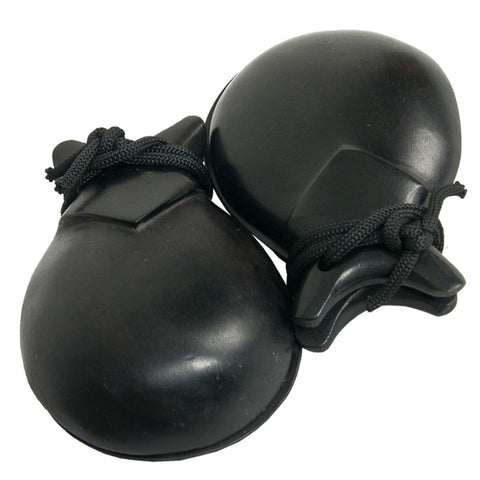 DOBANI Ebony Castanets w/ Black Finish 2.63" - Pair
Pair of Ebony Castanets.   The pair consists of two sets, a left and a right.  Each set has two corded clam-shaped ebony clappers.  Each pair has a slightly larger male set and a slightly smaller female set of castanets usually marked M and F respectively.

To play, hang one set from each of your thumbs so they rest in the palm of your hands. Then drum your fingers on the shell.  The ebony produces a slightly louder and crisper sound than castanets made of sheesham. The ebony is stained black for consistent appearance.

We do not recommend them for beginners, who should build up their finger strength and dexterity on smaller sets.  2 5/8 inches wide by 3 1/2 inches long (6.75 x 9 cm). Storage bag included.
---
We Also Recommend