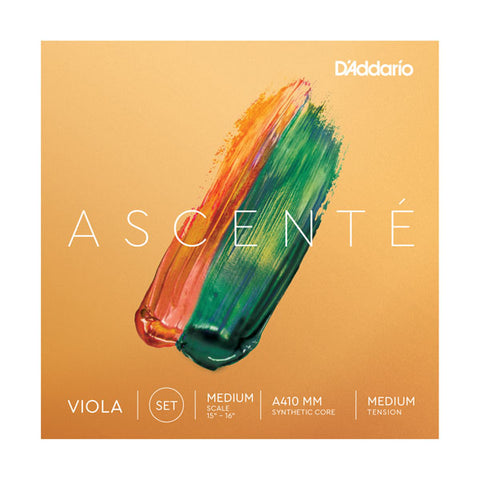 D'addario Ascente Viola Strings - 5/4 - Full Set
D'Addario Ascenté Viola Strings A410 LM Medium Tension, Full Set
Sized to fit long-scale viola (body length 16-16 1/2 inches) with a playing length of 15 inches (380mm), these medium tension strings are optimized to the needs of a majority of players. Packaged in uniquely-designed sealed pouches providing unparalleled protection from the elements that cause corrosion. Ascenté viola strings have been specifically designed to help players advance their craft with elegance and consistency. With a wider tonal range, excellent pitch stability and longevity, and superior durability, this synthetic core string delivers a more sophisticated palette that elevates their playing to the next level.
EXPRESSIVE TONE: expanded tonal palette designed to complement student instruments
AFFORDABLE SOPHISTICATION: elevated quality at an accessible cost
EXCELLENT PITCH-STABILITY: the best tuning stability of any synthetic core string available
UNBEATABLE RELISIENCE: engineered for unparalleled longevity and durability
ACCELERATED LEARNING: these strings are designed to help students sound better, faster
---
We Also Recommend