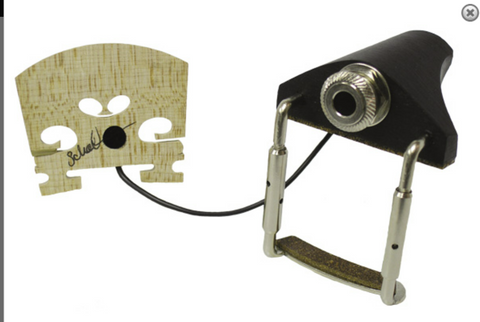 Schatten V-02-STD Passive Violin Pickup w/Jack Assembly
Violin Bridge Pickup
Permanent, Secure Installation
Includes Mahogany Jack Assembly
Full Two-year Warranty
Made in Canada
The V-02 Series features a wide range high output piezo transducer built into a medium density high quality maple bridge. This pickup system would replace your existing bridge on a permanent basis. If you are looking for a pickup that does not require bridge replacement, use the Schatten VVM series pickups.
The V-02 offers unparalleled reproduction, range and clarity of sound all wrapped up in a high quality medium density bridge. There is no false 'fatness' of sound to this series of pickups; they will give you everything that your violin has.
Thousands of players, professional and amateur alike, are simply getting the best sound that they can get out of their instruments with these pickups. All V-02 models are in 4/4 size and fit a normal full sized adult violin.
Model V-02-Std
This model includes the V-02 replacement bridge with embedded pickup, along with the Schatten Mahogany SJA jack assembly. Each pickup is hand built and tested in the Schatten workshop to ensure good sound. As well, each pickup is warranted for a period of two years from date of purchase.
Passive Design
Schatten has designed their V-02 series pickups to operate properly and sound terrific without the use of a preamp if you are running into any 'normal' amp (guitar amp, bass amp, etc.) Players who must plug directly into a mixing board will most likely need to preamp their signal in order to match up with what most mixers require in terms of impedance and signal strength.
---
We Also Recommend